Virginia Heffernan, Creationism and Deconstruction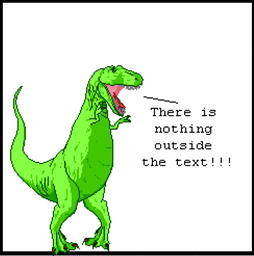 There's almost nothing as frustrating to someone who studies European philosophy of the 1960s-70s as the sheer volume of idiotic things that are written everywhere, from academic journals to science blogs, about "postmodernism" and "deconstruction." These labels are scattered wildly about and attached to things they never had anything to do with, and held up as dark warnings against dangerous irrationalism that leads to tyranny (or in the conservative Christian case, denial of God's truth that leads to tyranny). It's easy to get annoyed at evangelicals and journalists and science bloggers who perpetuate these empty stereotypes. But this Virginia Heffernan affair has made me realize how much we have to face another culprit: people who actually do dress up bad arguments in Derridean garb, thereby helping all the other culprits keep buying their prejudice on the cheap.
It started with a column in which Heffernan, a technology writer who has a Ph.D. in English, confessed that she is a creationist. She doesn't so much deny Darwin as she has just "never found a more compelling story of our origins than the ones that involve God." Heffernan is making a fairly banal argument for a romantic view of the world, not all that different from the one I've been encountering in G.K. Chesterton. Darwinism doesn't explain how we got here or why we exist, so why can't we believe a cool story about those things? What's all the fuss about?
Well, the fuss comes mostly from what she says toward the end of the column, where she veers from saying something like "science doesn't explain everything" to something closer to "science is mostly wrong and doesn't matter." I'll just quote those final two paragraphs:
When a social science, made up entirely of observations and hypotheses, tells us first that men are polygamous and women homebodies, and then that men are monogamous and women gallivanters—and, what's more builds far-fetched protocols of dating and courtship and marriage and divorce around these notions—maybe it's time to retire the whole approach.

All the while, the first books of the Bible are still hanging around. I guess I don't "believe" that the world was created in a few days, but what do I know? Seems as plausible (to me) as theoretical astrophysics, and it's certainly a livelier tale. As Life of Pi author Yann Martel once put it, summarizing his page-turner novel: "1) Life is a story. 2) You can choose your story. 3) A story with God is the better story."
So though she is still technically on defensible ground here, Heffernan is doing something slightly insidious: she's letting one of the very least credible social sciences (evolutionary psychology) stand in for science as a whole, without mentioning that the scientific community itself is very critical of ev-psych. Then she presents "the first books of the Bible" as an alternative to science, which you know, like ev-psych, is all just a bunch of hypotheses anyway. And while I don't think there's anything inherently wrong with "You can choose your story," in this context it comes pretty damn close to suggesting that, at a base level, empirical facts don't matter and whatever you want to believe about whatever is just fine. In this approach, "science" is insinuated to be on the same level as religious myths: it's up to you to choose whichever one first your "personality" better (an idea that runs through Heffernan's commentary elsewhere.)
Things got worse when Heffernan was called upon to defend herself on Twitter, particularly in this revealing exchange with New York Times science writer Carl Zimmer. In this conversation, Heffernan presents herself as some type of literary postmodernist who is radically skeptical of all representation of reality:
@carlzimmer @noahWG I don't have a positivist's brain. I suspect there are other mystics/flakes/English PhDs like me who also don't.

— Virginia Heffernan (@page88) July 11, 2013
@carlzimmer @albertocairo I did read Darwin as literature & Sam Harris &al as cultural docs but my training keeps me from seeing it as truth

— Virginia Heffernan (@page88) July 11, 2013
What she's basically doing here is saying that her literary personality and her philosophical skepticism allow her to deny that scientific findings have any necessary bearing on life or belief as long as she feels like remaining ignorant of them; all there is is a plane of competing stories. This is, is turns out, exactly what an ideological science blogger, or a quasi-religious scientific fundamentalist like Sam Harris, wants to believe a "postmodernist" is like. In fact, we have a science writer to demonstrate this for us: Telegraph editor Tom Chivers, who launches his jeremiad against Heffernan with one of the most ignorant accounts of "postmodernism" I've ever read:
That was true up until around the 1960s or so, whereupon a variety of philosophers in major US universities, mostly French and led by Jacques Derrida, decided that we are, in fact, entitled to our own facts as well. Postmodernist "deconstructionism" began with the perfectly sensible and even banal observation that literature could not be discussed without acknowledging the cultural baggage of both author and reader, and that the meaning of a text was not something fixed and eternal but the product of the reader's mind in conjunction with the author's.

But its influence spread beyond literature, into other areas of study.  As Barbara Ehrenreich put it, "Students taking courses in literature, film, 'cultural studies', and even, in some cases, anthropology and political science, were taught that the world is just a 'text' about which you can say anything you want, provided you say it murkily enough." She claimed that one of her children reported you could be marked down for writing "reality" without putting it in inverted commas. According to Francis Wheen, in his fantastic book How Mumbo Jumbo Conquered The World, science and politics fell under this reality-denying spell: it became impossible to critique either, since they were fictions, "like truth, justice, law and all other linguistic 'constructs'". Michel Foucault, another of the great deconstructionists, went to Iran and fell in love with the "beauty" of its savage theocratic regime. Wheen reports that, when asked about the brutal repression of dissidents and free speech in the country, Foucault replied "They don't have the same regime of truth as ours."
Okay, so Derrida never said anyone is "entitled to their own facts," and it happens that things like truth, justice and law, are constructs, even if they're good and necessary ones. Obviously Chivers knows nothing about Foucault, whose politics are utterly irrelevant to the topic at hand. But however silly and prejudicial a view of Derrida and Foucault this many be (something Chivers' colleague Tim Stanley wrote a good analysis of), it's not quite as a silly view of Heffernan. She's made pretty clear that when she says "you choose your own story," she means this in a radical way: you choose reality itself, and empirical facts are of little import. This is quite beyond the central "postmodernist" insight that we are situated in history and social structures that we can't get out of, even by disciplined, "rational" reflection. The fact that there is no logical, rational ground of nature or reality does not mean that nothing whatsoever can be rigorously observed and known about them.
But Heffernan has a history of wrapping herself in a "Derridean cloak" and presenting a kind of ad hominem science denialism as being part of deconstruction. In her infamous 2010 New York Times Magazine column about the website ScienceBlogs, she set up a grand battle between science and deconstruction, and her entire argument against ScienceBlogs was basically that science bloggers are elitist assholes. That is certainly true in some cases—certain internet science communities can be shockingly Taliban-like for people so opposed to religious fundamentalism. But Heffernan's column made no argument: it really had nothing to do with "science" as an academic pursuit of human knowledge, and certainly had nothing to do with deconstruction as a philosophical approach. She never read ScienceBlogs as someone who was interested in talking about science. She was doing exactly what Tim Chivers is doing in the post quoted above, and very close to what the ScienceBlog writers were doing to fat religious people: lumping together the good and the bad, mocking and dismissing something they really have no clue about.
This is a weird thing for me to write. I'm more inclined to think that, in American knowledge circles, the ideology and hubris of science are not critiqued enough, especially the dangerous ways that ideology colludes with economics and politics. I've even studied Derrida a lot, and am fairly sympathetic. I believe that, beyond anything argued by Derrida or Heffernan, we really have no clue what lies at the bottom or beginning of the universe, and every single bit of knowledge we have is an interpretation and a construct. People realized that a long time before Derrida, even if we haven't always been as aware of it as we should.
So you'd think I'd be more sympathetic to someone pushing back this way. But I'm afraid that's not what Heffernan is doing: she's throwing rocks at an imaginary version of "science" as much as Chivers is ranting about an imaginary Derrida. Just like scientists and science writers shouldn't be taken seriously when they pontificate on "postmodernism," newspaper deconstructionists shouldn't be when they dismiss credible, vital enterprises of knowledge as little more than a personality accessory.
About The Author
David Sessions
David Sessions is the founding editor of Patrol, and is currently a doctoral student in modern European history at Boston College. His writing has appeared in The Daily Beast, Newsweek, Jacobin, Slate and elsewhere. Follow him on Twitter here.