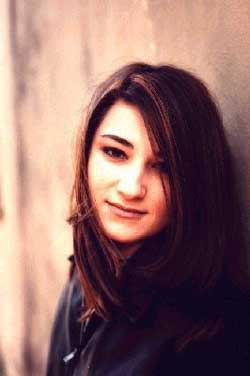 Inspired by my last post on social justice in Christian music—or, more precisely, by your nostalgic comments—I took another loving listen to the Jennifer Knapp catalog this weekend. (If the name is new to you, she was a spectacular Christian folk-rock artist who made three albums in an all-too-brief three years on Gotee Records.) No one knows what happened to her; her complete and utter disappearance from the public eye is one of the saddest Christian music career endings on record. Not that she left, just that the only way to enjoy her talent the past decade has been to go back and listen to the old stuff.
Jennifer Knapp was never exactly "edgy," even for Christian music, but she was among the most brutally honest artists of the late 90s, never hiding her doubts, and managing to write about faith, God, and even theological concepts without the crutches of emotional sap or cliche. She wrote songs about "skin-art junkies," covered Shawn Colvin, and all the while expressed hesitance about become a Christian "star." Apparently the hesitance won out: after making an expensive, contractually-obligated third record (her least impressive), she left and, to anyone's knowledge, hasn't released any new material since.
It's interesting to wonder what might happen should Jen return to the scene now. In many ways, she was today's Christian musician a decade ago: a talented musician who took her doubts as seriously as her faith and excavated mysteries from all parts of life, not just the magical "Christian" parts her contemporaries were compelled to cover. She also did something different—rootsy, bluesy rock—before the indie obsession spawned Christian imitators of every genre imaginable. She cut her own path with a confidence that many post-CCM artists are still grasping for.
After the jump, a slew of her best songs.
Continue Reading

→